When U.S. President Barack Obama went to Fort Campbell, Kentucky, for a highly-publicized but very private meeting with the commando team that killed Osama bin Laden, only one member of the super-secret SEAL team was identified by name: "Cairo, the War Dog."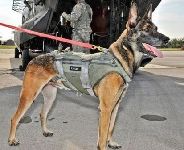 Cairo is a Belgian Malinois, a breed similar to German shepherds but smaller and more compact. An adult male weighs in the 65 pound range. German shepherds and Labrador retrievers are still used as war dogs, but the Malinois is considered better for tandem parachute jumping and rappelling operations. The dogs parachute solo when the landing is on water.
Like their human counterparts, the dog SEALs are highly trained, highly skilled, highly motivated special ops experts, able to perform extraordinary military missions by Sea, Air and Land – thus the acronym for SEAL.
The dogs carry out a wide range of specialized duties for the military teams to which they are attached. With a sense of smell 40 times greater than a human's, the dogs are trained to detect and identify both explosive material and hostile or hiding humans. The dogs are twice as fast as a human, so no one is likely to escape one of these amazing canines.
Equipped with video cameras, the dogs are often first to enter a danger zone. Their handlers can see what's ahead before following a dog into danger. As well, the dogs are faithful, fearless and ferocious incredibly frightening and efficient attackers.
When the SEAL Team 6 hit bin Laden's Pakistan compound on May 2nd, Cairo's feet were the first on the ground. Like the human SEALs, Cairo was wearing super-strong, flexible body Armor and outfitted with high-tech equipment that included "doggles" — specially-designed and fitted dog goggles with night-vision and infrared capability that would allow Cairo to see human heat forms through concrete walls.
The K9 Storm vest also has a load-bearing harness system that makes it ideal for tandem rappelling and parachuting. In all, the U.S. military currently has about 2,800 active-duty dogs deployed around the world with roughly 600 now in Afghanistan and Iraq.
During the Vietnam war era the U.S. military had an especially cold and unsympathetic view of the U.S. combat dogs. At the end of the war they were designated as surplus military equipment and were left behind when the American forces pulled out.
Now the U.S. treats its war dogs as full members of the military and are rewarded with "full retirement" at Lackland Air Force Base near San Antonio, Texas. Even though trained in war they are highly responsive to their human counterparts and exceptionally loyal and affectionate as "civilians."
In November of 2000 Resolution H. R. 5314 was passed by the U.S. House and Senate allowing for the adoption of retired Military Working Dogs. Information for adoption is available here http://www.militaryworkingdogadoptions.com/ and an Application for Adoption is available by clicking here http://www.uswardogs.org/new_page_7.htm. Information is at info@militaryworkingdogadoptions.com.
This is a superb opportunity to adopt a U.S. veteran and reward his or her service to our country plus have a faithful friend that has the highest degree of training and loyalty.
~ The Author is Sandy Pofahl and is compiled from web articles and sites ~
Story at 52Best Website: * Cairo the War Dog + Adoption Information *